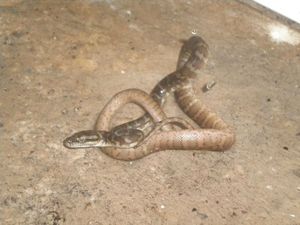 Snakes are part of the life in Australia. They are everywhere and Australia accommodates 18 of the 20 most dangerous snakes in the world. In the top Northern Territory the most dangerous snake you can find are the western brown and eastern brown. Very nasty and aggressive snakes that can grow up to 3 meters, their venomous bites delivers enough venom to harm a man and kill elderlies and children. In any case medical assistance is needed.
There are also many species of python.
During my stay i came across a handful of snakes, usually in the shower block at dusk, where they seek the warmth of the pavement. My best encounter however was in the morning when I saw the tail of a snake slithering behind the sink. I checked it out from a safe distance and identify the snake as a python : a juvenile carpet python.I scared it away from the sink and when on the ground, I gently picked it up on a wood stick to take it back to the bush where it belonged.
Carpet python can grow up to 4 meters and have a nasty nature, they often bite and though not venomous, the bite of a grown up can lacerate skin deeply and be infectious.
Many skake bites occur every year in Australia. But the country is prepared and snakes kill less than 1 person per year in the country.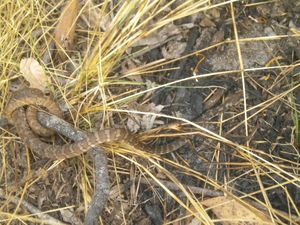 Les serpents sont monnaie courante en Australie. Ils se retrouvent partout et l'Australie abrite 18 des 20 races de serpents les plus dangereux au monde. Autour de Darwin, l'espèce les espèces les plus dangereuses sont le western brown et l'eastern brown. Très agressif, ils grandissent jusqu'à 3 mètres et leur morsure venimeuse peut être fatale pour les enfants et personnes âgées et très dangereuse pour l'homme. Dans tous les cas une prise en charge médicale est nécessaire. Il y a aussi de nombreuses espèces de python.
Pendant mon séjour j'ai pu voir une poignée de serpents, en général le soir dans les douches où ils recherchent la chaleur du béton. Ma meilleure rencontre cependant fut un matin, quand j'ai vu la queue d'un serpents glisser derrière l'évier. J'ai vérifié qu'il s'agissait d'un python : un python carpet enfant. Après l'avoir effrayer pour le faire sortir de derrière l'évier, je l'ai récupérer du sol avec un bâton pour le ramener vers le bush où il appartient.
Le python carpet peut grandir jusqu'à 4 mètres et a une assez mauvaise nature. Il est agressif, et sa morsure bien que non venimeuse peut infliger des blessures profondes et être infectieuse.
Les morsures de serpents sont relativement fréquentes en Australie, mais le pays y est préparé et les serpents tuent moins d'une personne par an.