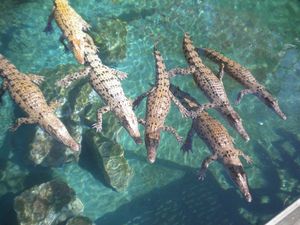 There is no need to hide the truth : there are crocodiles in the Litchfield National Park and all around Darwin. Freshwater crocodiles are not too big : they grow to 3 metres long and feed on fishes mostly, they are pretty harmless to human. But there also are saltwater crocodiles aka estuarine crocodiles : those prehistorical monsters feed on everything they find : fishes, lizards, birds, small mammals, big mammals and human if the occasion arise. They are absolutely amazing animals.
Few hundred meters behind the Litchfield café there is a billabong inhabited by crocodiles, and I spend a few days there trying to spot one in the wild. Not being a daredevil, I reckon there are n salties in those water (or at least there should not be), I was still very careful everytime I went for a walk around there. I did not see any croc in the billabong, the closer I get from one is to hear it entering the water as I approach the bank. I can say that I was less than 50 meters away from a wild crocodile and a later day I spot the tail of a 1.5 meters freshie from the back of a car.
But let's learn a bit more about crocs … after the french version.
Il n'ai pas besoin de le cacher, il y a des crocodiles dans le Parc Litchfield et autour de Darwin. Les crocodiles d'eau douce ne sont pas très grands : jusqu'à 3 mètres et se nourrissent principalement de poissons, ils sont inoffensif pour l'homme. En revanche, il y a aussi des crocodiles des estuaires ou d'eau salé, appelés ainsi car ils sont capables de supporter l'eau salée des océans. Ces monstres préhistoriques grandissent jusque 6 mètres et se nourrissent de tout ce qu'ils trouvent : poissons, lézards, oiseaux, petits mammifères, grands mammifères et nous si l'occasion se présente. Ce sont des créatures absolument fascinantes.
A quelques centaines de mètres derrière le café il y a une crique et plusieurs trous d'eau habités par des crocodiles d'eau douce. Il n'est pas censé y avoir des crocodiles d'estuaires. Je suis toutefois resté très prudent à chaque fois que je me suis approché du lieu pour tenter d'apercevoir le monstre.
Je n'ai pas eu cette chance, le mieux que j'ai obtenu a été d'entendre un crocodile entrer dans l'eau alors que je m'approchais de la rive. Il reste que je me suis trouvé à moins de 50 mètres d'un crocodile sauvage. Plus tard, j'ai pu apercevoir la queue d'un croc de 1m50 depuis le confort d'une voiture.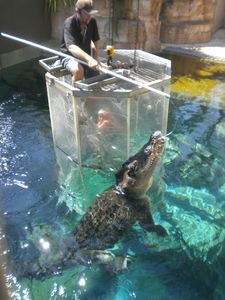 Now like I said before, let's learn more about the crocs (thanks to my visit to the awesome Crocosaurus cove in Darwin)
Crocodiles are very old creatures, much older the human. But they have not evolved much as they have always been perfeclty designed killing machines.
Crocs are stealth hunter : a 6 metre long croc weighting over half a tonne can literally disapear in a shallow mud water thanks to several features.
All hunting organs are located on top of the head : eyes : ears and nostrils. The croc can be immerged under water and still see, hear and smell its prey. But what is amazing is the way crocs control their submerssion. They can actually control the amount of air in their lungs to decide precisely the depth they want to stay at, like a submarine. Crocodiles also have the amazing capacity of controlling the heart rate reducing it to as low as 5 beats per minutes to save their energy. They are also able to accelerate this heart rate to create a ruch of energy and, with a powerful tail half the size of their body, propulse themselves several metres above the water.
Being cold blooded animal, the croc are energy efficient. They use the solar panels on their back to get energy from the sun (on the contrary we need to eat regularly for the only purpose of eating our body). Crocs can rely on one big meal for several months.
Crocs are also very sensitiv and carring animal. A croc mother will spend 3 months protecting her nest against predators. When the hatchlings come off the egg she takes them gently in her jaws to take them to the safety of the water. She has very sensitiv sensors on her jaws to ensure she does not crash her babies.
Awesome animals, I could watch them for hours.